A 3-Hour Walking Tour of Bergen: Uncovering the Gems of Norway's Coastal City
Bergen, a picturesque city nestled between seven mountains on Norway's west coast, is a must-visit destination for tourists seeking a blend of natural beauty and rich cultural history. This guide provides a detailed walking route through Bergen's main attractions and concludes with recommendations for five of the city's finest restaurants and cafes, where you can enjoy delicious Norwegian dishes.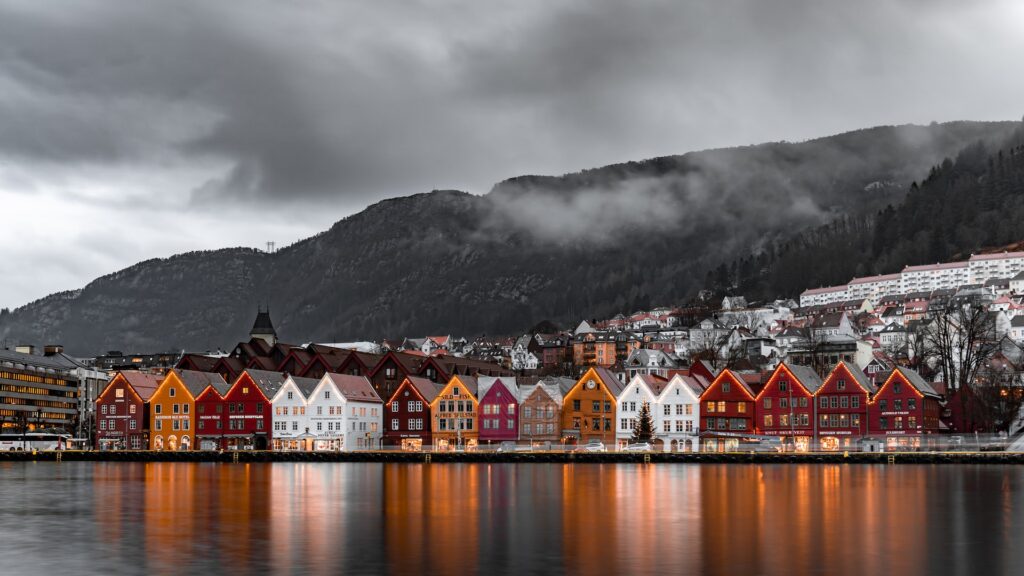 The 3-Hour Walking Route:
Start at Bergen Station
Walk to Byparken
Explore Lille Lungegårdsvannet
Stroll along Torgallmenningen
Visit the Fish Market (Fisketorget)
Admire the UNESCO-listed Bryggen
Traverse the narrow alleyways of Nordnes
Marvel at Bergenhus Fortress
Finish at the Bergen Aquarium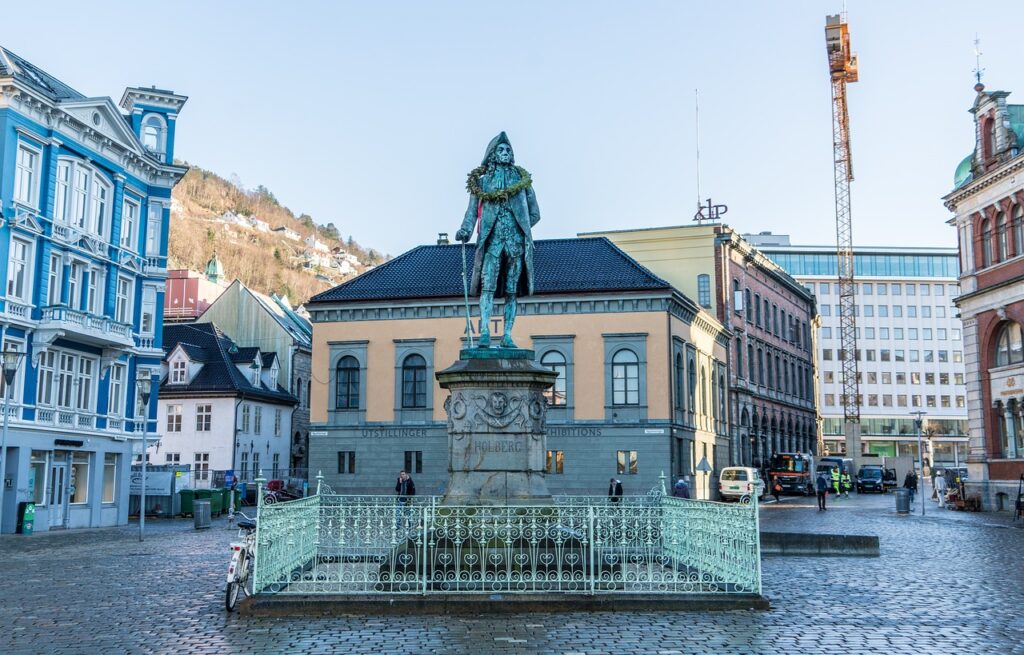 A Detailed Itinerary:
Begin your adventure at Bergen Station (0 min)
Kick off your walking tour at Bergen Station, the city's main railway station located in the heart of the city. This central location is the perfect starting point to explore the nearby attractions.
Byparken (10 min)
Head west from the station and make your way to Byparken, a beautiful public park in the city center. Admire the lush greenery, colorful flower arrangements, and the park's centerpiece: the Music Pavilion, a charming gazebo that hosts outdoor concerts in the summer months.
Lille Lungegårdsvannet

(15 min)
Continue southwest, and you'll arrive at Lille Lungegårdsvannet, a small, serene lake surrounded by parkland. Stroll around the lake to enjoy the calm atmosphere, feed the ducks, or rest on a bench to soak in the picturesque surroundings.
Torgallmenningen

(20 min)
From Lille Lungegårdsvannet, walk west towards Torgallmenningen, Bergen's central square and shopping district. Here, you'll find a lively atmosphere, bustling with street performers, art installations, and shoppers visiting the many nearby stores.
Fish Market

(Fisketorget) (15 min)
Head northwest from Torgallmenningen and make your way to the famous Fish Market. Known as Fisketorget in Norwegian, this open-air market is where you'll find fresh seafood, local produce, and handicrafts. Take your time exploring the market stalls and sampling some of the fresh seafood treats.
Bryggen

(10 min)
Just north of the Fish Market lies the iconic Bryggen, a UNESCO World Heritage Site. Bryggen, a row of colorful wooden buildings, is a historic trading center dating back to the Hanseatic era. Wander through the narrow passages and visit the Hanseatic Museum to learn more about Bergen's trading history.
Nordnes

(30 min)
After exploring Bryggen, head west towards the Nordnes peninsula. This charming residential area is known for its narrow, winding streets and traditional wooden houses. Enjoy a leisurely walk through the neighborhood, and don't forget to stop at Skostredet, a vibrant street with boutique shops and cozy cafes.
Bergenhus Fortress

(20 min)
Leaving Nordnes, continue west to the Bergenhus Fortress, a medieval fortress that has stood guard over Bergen since the 13th century. Explore the historic grounds, which include Haakon's Hall and Rosenkrantz Tower, and learn about their roles in Norwegian history.
Finish at Bergen Aquarium

(25 min)
Conclude your walking tour at the Bergen Aquarium, located at the northern tip of the Nordnes peninsula. Known as Akvariet in Norwegian, this popular attraction houses a diverse collection of marine life, including fish, penguins, and seals. Take some time to explore the various exhibits and watch the entertaining feeding shows before heading off to sample some of Bergen's delicious cuisine.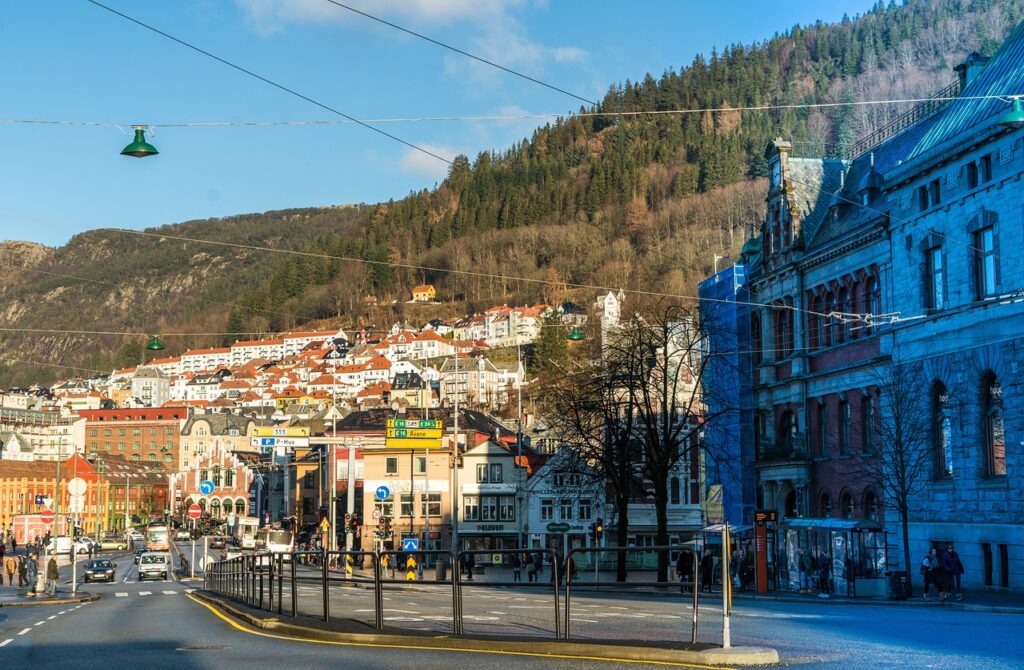 Top 5 Restaurants and Cafes in Bergen:
Enhjørningen
Pingvinen
1877
Kaffemisjonen
Fjellskaal Fisketorget
A Delectable Dining Experience:
Enhjørningen

(The Unicorn) Address: Bryggen 29, 5003 Bergen Price range: $$$
Located in the heart of Bryggen, Enhjørningen offers a refined dining experience in a historic setting. The restaurant serves traditional Norwegian dishes with a modern twist. The must-try dish is the Grilled Atlantic Wolffish served with seasonal vegetables and a creamy sauce (NOK 325). Pair it with a glass of local beer or wine for a memorable meal.
Pingvinen

(The Penguin) Address: Vaskerelven 14, 5014 Bergen Price range: $$
This cozy and unpretentious eatery offers a wide selection of traditional Norwegian comfort foods at affordable prices. Don't miss their famous Raspeballer, potato dumplings served with bacon, sausage, and melted butter (NOK 169). Wash it down with a cold Hansa, the local Bergen beer.
1877

Address: Kjøttbasaren, Vetrlidsallmenningen 2, 5014 Bergen Price range: $$$$
Housed in the historic Kjøttbasaren (Meat Market) building, 1877 offers an exquisite fine-dining experience. Their seasonal tasting menu (NOK 995) features locally sourced ingredients and changes regularly to reflect the freshest produce. Enjoy your meal in the elegant atmosphere of this beautifully restored building.
Kaffemisjonen Address: Øvre Korskirkeallmenningen 5, 5017 Bergen Price range: $
For a laid-back cafe experience, head to Kaffemisjonen. Indulge in their selection of homemade cakes, pastries, and sandwiches while sipping on expertly brewed coffee. The Skolebrød (NOK 35), a Norwegian cardamom bun filled with custard and topped with coconut, is a must-try.
Fjellskaal

Fisketorget Address: Strandkaien 3, 5013 Bergen Price range: $$
Located at the Fish Market, Fjellskaal Fisketorget serves a range of fresh seafood dishes in a relaxed setting. Try their popular Fiskekaker (NOK 149), traditional Norwegian fish cakes served with a side of vegetables and potatoes. Finish your meal with a bowl of homemade Klippfisk (NOK 215), a salted and dried cod dish that's a local favorite.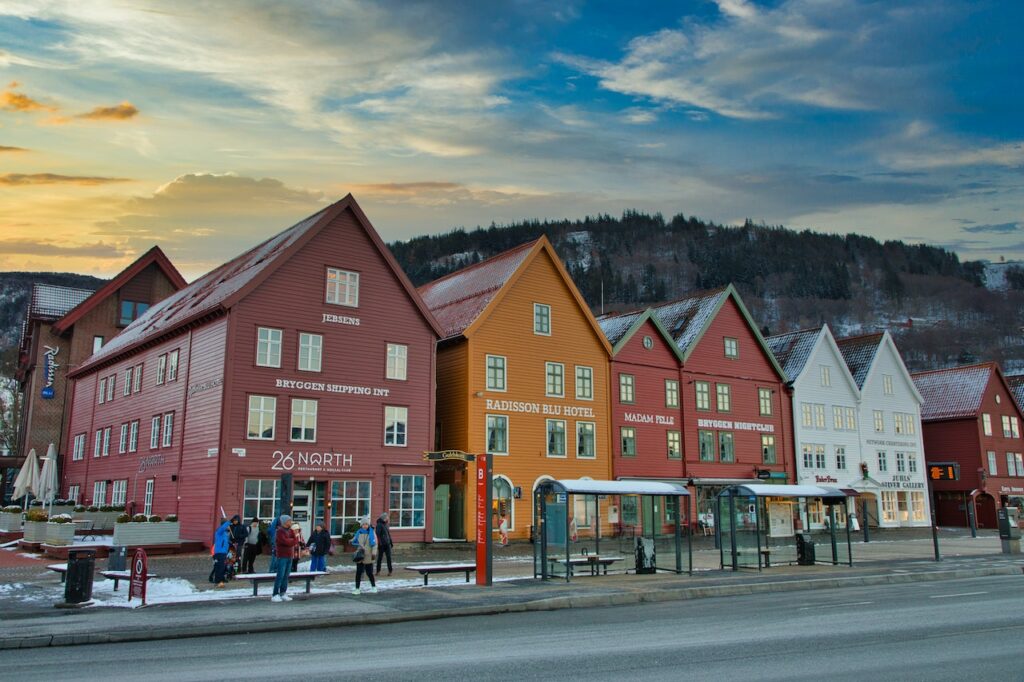 Bergen offers an unforgettable experience for tourists, from its rich history and breathtaking scenery to its vibrant food scene. This 3-hour walking tour is just the beginning of your adventure, as the city has so much more to explore. Don't forget to indulge in the culinary delights of Bergen, sampling national dishes in the city's top-rated restaurants and cafes.